KARAM provides a range of CE marked Hooks and Connectors made from Alloy steel and a Light weight range made from a special grade of Aluminum Alloy.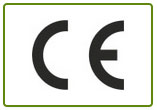 The KARAM range of Hooks & Connectors come with the following special features:
Are openable by minimum 2 deliberate consecutive manual actions.
A range of Manual & Automatic Locking Hooks and Connectors.
Tested for both Gate Function and Gate Resistance.
Tested for corrosion resistance for minimum 72 hours of salt spraying testing.
The important features in the Gate Hook strenght of KARAM Snap Hooks & Karabiners are as follows:
Gate Face, Side of Gate & Minor axis of Snap Hooks & Karabiners (except those with a captive pin) withstands a load of more than 3600 pounds.
Tensile load withstands 5000 pounds